Singapore is turning 54 in about 2 weeks' time! How time flies! Like how the National Day Parade venues change as our country matures, the games our children engage in now also differs vastly from the childhood games I remember playing as a kid. Games these days are more tech-based and educational rather than just pure simple entertainment.
How many of these childhood games do you remember? Why not introduce them to your children as you reminisce about the good old days and play together as a family?
1. Flag Erasers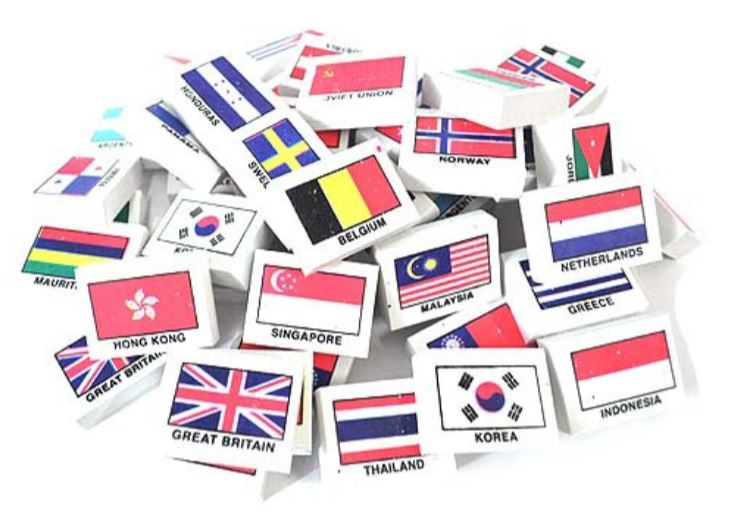 How to play: Flick your erasers until one piles on top of the other. The one on top will be crowned the winner.
Perfect quick game in class with your "neighbors" in-between lessons. Are you guilty of crowding around your school's bookshop trying to get your hands on a 10 cents country flag eraser for a battle of the erasers? I was! I still vividly remember my eraser with the Egyptian flag printed on it being my most prized possession for this game.
2. Pepsi Cola 1 2 3
How to play: Each player is entitled to walk 3 steps during their turn. You will be eliminated when your opponent steps on your foot. The last man standing wins the game.
This is the intense game that left all of us perspiring and breathless. I particularly enjoyed the intensity of this game. Great for training our reaction speed!
3. Hopscotch
How to play: Simply toss a beanbag or any small object into any box and hop on over to the box to pick it up while maintaining your overall balance on one leg.
This was one of the games I started playing in primary school (I even missed the school bus home!) and it remains one of my favorites.
4. 5 Stones
How to play:
Complete these 8 steps –
#1: Throw down all five stones. Pick up one and throw it in the air, quickly pick a second
stone, while the first is still mid air, and catch it while it falls. You should then have 2
stones in your hands. Put one of them aside, and repeat with each of the remaining 3
stones.
#2: Same as step 1 but pick up two stones at a time. Put two stones aside and repeat.
#3: Repeat step 1 but pick up 3 stones before catching the stone in mid air. Put the 3
stones aside and repeat with remaining stone.
#4: Throw down all five stones. Toss 1 stone in the air, and pick up the remaining four
stones at the same time while the first stone is in mid air. Catch it before it lands.
#5: Throw up one stone, and place the other four on the ground. When the stone lands,
throw another stone up, grab the four stones and catch the stone before it lands.
#6: Throw all five stones on the ground. Pick two stones. Throw one in the air and swap
the other with one on the ground, then catch the other stone before it lands. Repeat with the rest of the stones. You'll be left with 2 stones in your hands.
#7: Throw up the 2 stones from the end of Step 6. Pick up one stone from the ground,
and catch the two falling stones separately in each hand. Repeat until you are left with
three stones in one hand and two in the other. Throw the two stones and catch it
separately in both hands. Throw the remaining stone and catch it with the hand that has
all the stones.
#8: Throw down all the stones. Your opponent selects a stone to be thrown in the air.
You have to pick this stone without moving any others, then toss it into the air. Pick up
the four stones at the same time, then catch the falling stone.
5 Stones is one of the games we used to play in school with our girlfriends. My mom used to reuse old clothes and rice to DIY 5 stones for my sister and I. Do you share the same memory?
5. Zero point
How to play: Splitting into 2 teams, each team will take turns to leap clear of the rubber band rope held by the opposing team. The game starts with the rubber band rope being close to the ground and slowly rising higher.
A popular recess time activity. This game requires skill and technique. I remember being awed by fellow friends who were able to leap high with grace and agility! There was so much thrill and satisfaction when one successfully crossed a high rope.
6. Pick up sticks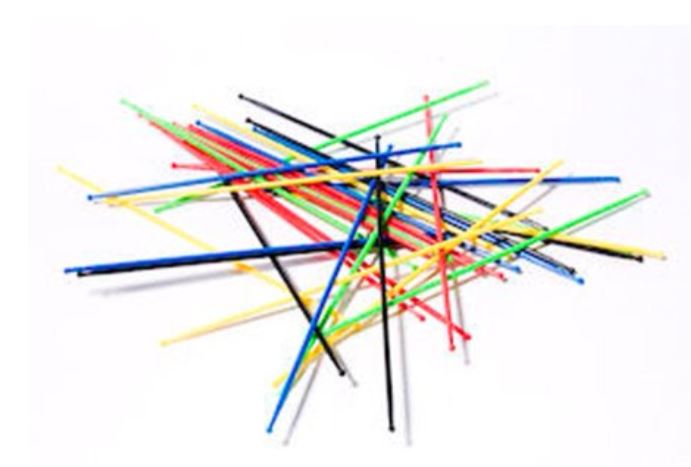 How to play: The game would start with players scattering plastic sticks on the ground. Each player will take turns to gingerly pry sticks loose from the pile without disturbing any of the other sticks. The person with the most sticks wins.
On days when my friends and I felt lazy to head out of the classrooms and preferred to entertain ourselves with some light and quiet activities, this was the game for us! While it is a simple game, it is one that requires concentration and a steady hand.
7. Chapteh (also known as "Jianzi")
How to play: Keep the chapteh in the air for as long as you can kicking it up with the heel of your foot.
My memory of this is an interesting one. Back in those days, my sibling and I would compete with each other in a game of chapteh to decide who is going to do the dishes after dinner time. Thinking back, it was such good fun!
Personally, these are the nostalgic memories that make Singapore feels like home and holds a place close to my heart. Over time, games like these are replaced by screen-time and mobile/video games. It seems rather challenging to instill a sense of belonging in kids these days as traditions evolve.
Recently, when i was introduced to the new game of "The Singaporean Dream". I thought it is a great game to keep my kids off electronic gadgets and instill a sense of belonging to Singapore. It is also a fun way to introduce our unique culture to foreign friends and visitors.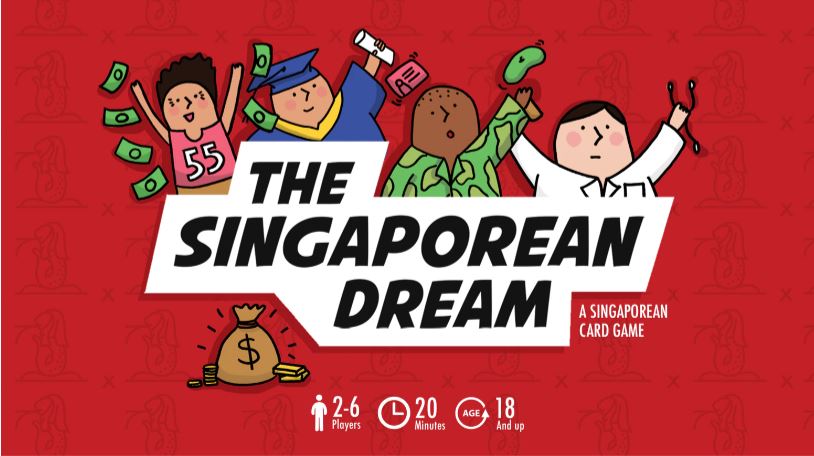 How to play:
1. Select a Singaporean personality
2. Collect as many Singaporean Dream as you can before the dream pile runs out. You
can buy the dream cards with cash cards or gain them with action cards.
3. During each turn, draw 2 action cards and play up to 2 action cards. There are a variety
of Action Cards that let you gain or steal Dreams and Cash from your target players!
Watch out for some really powerful cards that can help to turn the game around!
4. Keep going until the dream pile runs out, the player with the most number of dreams win.
In celebration of our Nation's 54th Birthday, Parent & Child would like to giveaway 2 sets of "The Singaporean Dream" card game on our Facebook page. All you need to do:
1) Like & Share our Facebook Post (set post to public)
2) Like & Follow us on FB & IG (@parentchildsg)
3) Tag as many friends as you want (but please do not spam)
4) Tell us which one of these games is/was your favorite?
T&Cs:
– Contest ends on 12 Aug 2019, 2359h.
– Winners will be randomly selected and announced on 13 Aug 2019.
– Only applicable to Singaporeans/PRs (prizes can only be mailed within Singapore)
#NDP2019#nationalday2019#singapore#sgnationalday#sgtraditionalgames#oldschool#oldgames#childhoodgames#singaporedream#sgmummy#sgparent