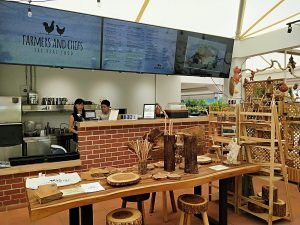 Opened in mid-July 2019, Famers and Chefs is a delightful eatery located within Singapore Conference Hall in Shenton Way that serves affordable, wholesome and delicious meals made using the freshest ingredients to provide a mindful dining experience.
Set below a canopy, surrounded by greenery and decorated with rustic wooden crafts by local wood and clay crafter, Farmers and Chefs exudes a casual outdoor vibe. The 50-seater also comes with a play area for children complete with toys and games.
The retail area is where diners will be able to admire and purchase the one-of-a-kind wood and clay pieces. From ramekins, unique ornaments to an entire dining table, all of the wooden pieces are made from specially treated chamcha wood from Thailand. Refraining from single-use plastic, the establishment only uses stainless-steel cups and cutlery, while plates and bowls are made with biodegradable rice husk.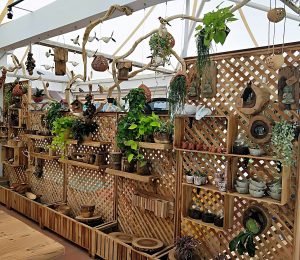 Farmers and Chefs takes pride in offering a thoughtfully-created menu that features hearty breakfast eats, wholesome mains, satisfying lunch bowls and pasta dishes–made with love, without flavour enhancers and artificial colouring. There is also a strictly no deep-frying rule.
The Real Food
All sauces are home-made from scratch using healthier ingredients. For instance, the special house sauce is made with kombu and mirin while the addictive Farmer's Soy Mayonnaise™ is dairy-and egg-free; and made with soy milk, vinegar and olive oil.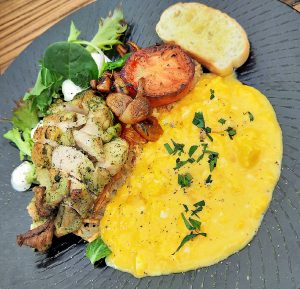 Kick-start the day with The Farmer's Breakfast ($10), a hearty all-in-onemeal. Tender sous vide herbed boneless chicken thigh slices are served with creamy scrambled eggs topped with clarified butter, grilled Roma tomatoes, sautéed button mushrooms, mixed greens tossed in a tangy house vinaigrette, crisp Rösti with a dollop of Farmer's Soy Mayonnaise™ and warm ciabatta served with Irish butter.
The Pomodoro Pasta ($10) brims with fresh flavours of onions, tomato and basil, cream and parmesan cheese. Diners looking for a creamier pasta may also try the Mentaiko Carbonara ($12) or the ever-popular Truffle Mushroom Cream with Asparagus ($14).
The Yakiniku Beef Rice Bowl ($14) finds slices of stir-fried striploin coated in a home-made yakiniku sauce accompanied with fluffy rice, broccoli, grilled cherry tomatoes and crowned with a perfectly cooked onsen egg for extra richness. Another must-try is the Teriyaki Chicken Ricebowl ($10); succulent chicken thigh is prepared with home-made teriyaki sauce and is perfect for a satisfying and healthy lunch.
The Secret Children's Menu (Available from 01 November 2019)
For the precious little ones, The Little Breakfast menu features a Mini Chicken Sandwich ($4) and Mini Prawn Sandwich ($5) made with egg-and dairy-free ciabatta and delicious to boot. In particular the seafood sarnie features chopped avocado, house egg-and dairy-free mayonnaise and mashed potato. The same pasta and main courses are available on the children's menu in kid-friendly sizes priced from $4 to $6. For those looking for something a little more adventurous and wish to customise their own dairy-or gluten-free meal, the Mix and Match (starting at$3) option is the way to go! Farmers and Chefs are also baby-led weaning (BLW) friendly; a movement that lets babies feed themselves solid foods from as early as six months onwards in a safe and supportive environment.
Founded with the notion that all children should enjoy a good, affordable meal regardless of dietary restrictions, Farmers and Chefs promises to only offer real food, serving up delicious meals that are nutritious, and made from scratch using only the best ingredients. Farmers and Chefs is established by the same team as LeClare Preschool, an institution that adopts the Reggio Emilia approach to holistic learning for children aged two months to six years old, and located just next to the café.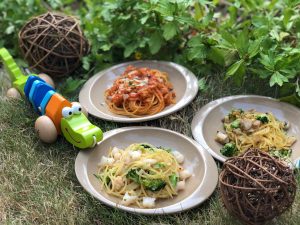 Homemade Beverages
Cool down on a hot day with one of the restaurant's refreshing homemade drinks! Served in a retro stainless-steel cup, the homemade Barley ($2) comes with shards of delicate beancurd skin, and is sweetened with rock sugar; while for tea lovers, the Chrysanthemum ($2) is a must have.
Farmers and Chef
Address: 7 Shenton Way #01-04, Singapore Conference Hall, Singapore 068810
Telephone: (65) 6721 9398
Opening Hours: 8am-8pm on Weekdays & 9am-8pm on Saturdays (Closed on Sundays)