Updated: Mar 20
Sliced bread is one of the most common breakfast items we have at home. But have you ever come across this problem where the last few slices are always left untouched? Well, at least that was what happened in BNF (Bear Naked Food) household.
Thanks to mom's constant waste-no-food drilling, I often save up the last few slices in the fridge and use them to make these Stuffed French Toast Roll Ups. This is the perfect recipe to make use of leftover bread and fruits, i.e strawberries, raspberries, blueberries, etc. The breakfast gang love it and so do I! They are not only super easy and fun to make, they are always a hit with the kids at breakfast table, heck, even adults too!
Ingredients:

6 slices square white bread 125 g (half block) cream cheese – at room temperature (I'm using Philadelphia) 5 tsp powdered / icing sugar 1 tsp pure vanilla extract Fresh strawberries / raspberries / blueberries (I'm using raspberry and blueberries)
Egg mixture: 1 egg 2 tbsp milk
Cinnamon sugar coating: 3 tbsp white sugar 1 tsp ground cinnamon
Makes 6 rolls
Recipe source: The Little Sous Chef 
In a medium bowl, combine the cream cheese, powdered sugar and vanilla extract. Mix together with a fork until smooth
Slice off the crusts of the bread.
Using a rolling pin, roll and flatten out each slice of bread. It should be thin but not too thin.
Spread adequate amount of cream cheese on each slice and place the berries in a single row at one of the edges.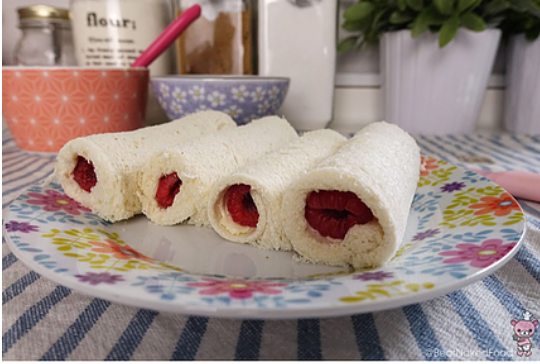 Roll up the bread into a cigar shape, applying some pressure to keep it in shape.
Heat up a non-stick pan with a little oil.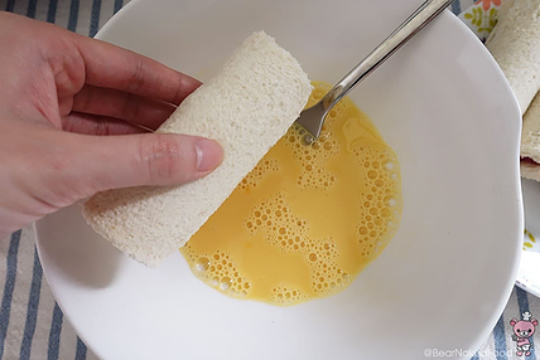 Dip each roll into the egg mixture and place them into the hot pan.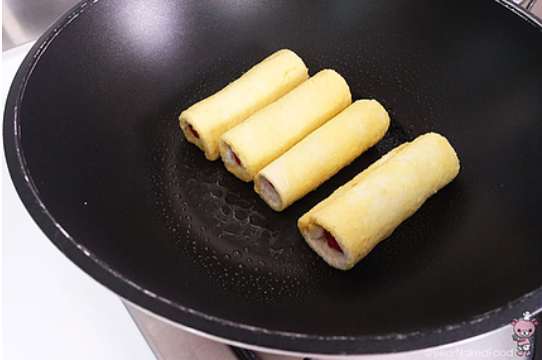 Cook until all sides are golden brown.
Remove from pan and immediately coat each roll in the cinnamon sugar.
Serve warm.
Note: you could prepare the rolls ahead of time and refrigerate until ready to use. It is not necessary to thaw before cooking. Dip them into the egg mixture and cook as per instruction.
Photo Credit: Images used with permission from BearNakedFood
Recipe Credit: BearNakedFood
About Rachelle Young-Ng: Editor-in-Chief at Bear Naked Food. Bear is her moniker. Food is something she lives to eat (alot). 
About BearNakedFood: A food recipe blog that makes sense.