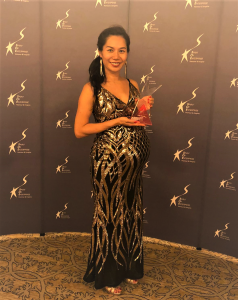 This month, we had the privilege to interview Ms Lily Kew, the Founder of homegrown organic skincare brand Kew Organics, in person at Kew Organics's new flagship spa @ Cluny Court. All Kew Organics treatments and products (exclusive and only available at Kew Organics) used are organic, eco-friendly and some of them are certified vegan. This one-of-a-kind concept has certainly caught the attention of the media; within a span of 8 months, Kew Organics has graced the pages of Business times, Straits Times, Nuyou, Cosmopolitan, Silver Kris, Eight Days, just to name a few. On top of this, it has also won the 'Best Organic Facial' and 'Best Organic Eye Firming Treatment' Spa Awards.
Lily started organic skincare label Kew Organics as an entrepreneurial journey at the same time when she was pregnant with her first child. Now, at 48 years old, she's currently pregnant with her second child, conceived through IVF. We sat down for a chat with the inspiring mum-preneur about her entrepreneurial journey (shaking up the beauty business with a key aim to help women achieve clear, healthy, makeup-free skin), parenthood, advise for aspiring mum-preneurs and beauty/self-care tips.
Q: What propelled you to embark on the journey of starting your own Skincare Brand?
Lily: I had bad skin. For more than 10 years, I went to many skin doctors, beauty salons and tradeshows in search of a solution but to no avail. There were good and bad (skin) days but the skin problems never went away.
Subsequently, I decided to study Beauty in Singapore and Vancouver. That was when I realized that we are what we eat and apply (on our skin). Thus, I decided to go organic. However, the organic skincare products that I liked and brought back to Singapore to use were either too oily or mild. They weren't suitable for Asian skin and Singapore climate. As such, I began searching for water-based organic skincare instead. However, the organic treatments that were available in the market back then were either merely add-ons in the menu or did not include any extraction and use of machine. It was disappointing and a pity as extraction and machines help to deliver clean and clear skin, escalate the production of fibroblast, collagen and cell renewal. There was a trend of laser treatment. However, that often thins and cause sensitivity to the skin, causing damage to the skin in the long-term. I identified a gap in the beauty industry and decided to combine good organic product with machine. In April 2014, I founded Kew Organics. In 2016, I created Kew Organics Water-Based Skincare line. In 2017, Sugar K (a 20 minutes one-stop organic peel bar) was established to cater to busy lifestyle and hectic schedule of Singaporeans.
Q: Is Kew Organics the only homegrown Organic Skincare Brand in Singapore? What were the challenges you faced when starting out?
Lily: I believe we are the only full-fledged homegrown organic skincare + treatment brand in Singapore till date. Consumer skepticism was an issue we faced. We addressed it by educating consumers and presenting our organic documentations as proof to address doubts (if any). Having said that, I was also very fortunate that some consumers were also starting to be savvier and more mindful of the type of skincare products they use. Some also prefer to wear lesser/no make-up, which our brands advocate. In a way, I turned crisis into opportunity.
Q: How do you think the local skincare industry has evolved over the years?
Lily: In my opinion, the skincare product offerings in the market remain the same. There is however an increasing trend in consumers searching for clean organic products and treatments.
Q: Tell us more about Kew Organics. Are the products certified organic?
Lily: Our products contain at least 75% component of certified organic ingredients, which are stated in the product documents. Our export and distribution business in Hong Kong (and/or other countries) required us to present the necessary certifications and documentations to the customs. Of course, there are other organic certification organizations like USDA, ECO-Cert and ACO. However, those require tedious application process, are costly and must be renewed annually. This would mean that the prices of my products will have to be marked up; I would rather help more consumers instead.
Q: The ingredients (i.e. white fungus, goji berries, organic rose, pomegranate, etc.) in your latest range of products are rather interesting! Could you share with us how did you come up with the ideas?
Lily: I envision Kew Organics to be the organic leader. In order to do so, I need to be innovative in searching for exotic ingredients to address consumers' skincare concerns. For example, the white fungus blooms in water, absorbing and locking in all the moisture. A common skin problem that almost everyone has is the lack of hydration, which leads to many other issues like uneven skin-tone (due to oxidation), over-active oil glands, sensitive skin, etc. So many women tend to apply make-up to "hide" these flaws.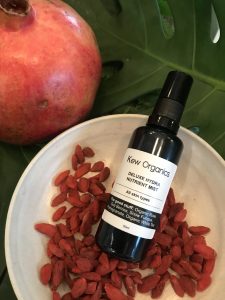 Q: Which are your favorite Kew Organics products?
Lily:
Mandarin Acai Cleansing Lotion – Our star product as it does more than a cleanser. I was looking for solutions for oil seeds and lines around the eyes but not inclined to resort to invasive aesthetic enhancements like threading or Botox. We cannot prevent aging, but we can delay it. There are many good eye-care products in the market, but they do not exfoliate the eye area, so absorption is not optimal. This product was formulated with intention to stimulate cell renewal faster than accumulation of dead cells without thinning the skin. Thus, it gently exfoliates the face to remove the barrier of excessive dead cells to allow products to be absorbed by the skin at a deeper layer. And it is so gentle it is able to exfoliate the eye area to reduce oil seeds, fine lines and wrinkles and tone the skin around the eye area by absorbing the products at a deeper layer to stimulate collagen, improve elasticity and hydration.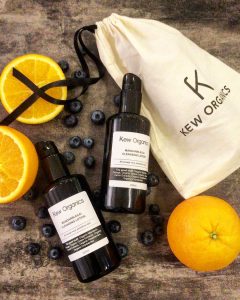 Immortelle Energizing Cream – Perfect for anti-aging and keeping the lines away. I like to use it on my neck.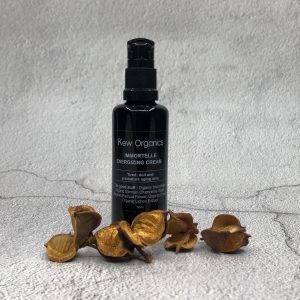 Dose of Omega-7 Hydrating Emulsion – Yogurt-like texture. Great for whole face hydration (but avoid eyes). Omega-7 is a precious rare ingredient that effectively fights aging and delivers smooth, young-looking skin. Good for travelling and long flights too!
Clear Skin Treatment Essence – A level-up from Toner. Hydration-booster. Perfect for everyone who sleeps in aircon room as it locks in moisture and keeps skin soft and dewy. Suitable for eye and neck area for deep absorption.
Elixir Hydrating Concentrate Serum (add in few drops of Apple Stem Cell Vitaglow Serum) – This is the base of my hydration. It helps to even out skin-tone for that no makeup makeup look. I even use it on my underarms during this pregnancy every day (morning and night), that is why I do not have any pigmentation or skin darkening even though my due date is next month. Apple Stem Cell contains antioxidant which delays aging process.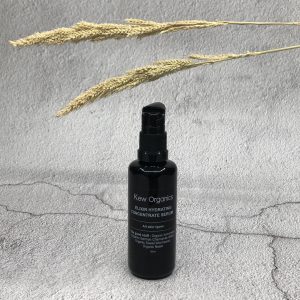 Deluxe Hydra Nutrient Mist – A must-have which I bring along in my bag and use every 2 to 3 hours to replenish moisture. Since we need to drink water regularly to hydrate my body system (Which are made up of organs), all the more we should that for our skin, which is the largest organ in our bodies.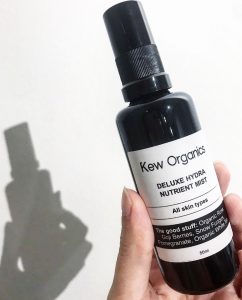 Q: With so many brands in the Skincare Industry, how does Kew Organics stay relevant and competitive?
Lily:
Innovation of ingredients and treatments – Our latest treatment is the LED therapy which effectively treats a myriad of skin problems such as sensitive, weak skin, loose, sagging skin, rosacea, psoriasis, uneven skin tone, pigmentation, wrinkled skin etc.
Continuous training of staff
Understanding clients' needs and problems
Proper packaging with our special Miron Violet Glass from Europe to contain our products so the active ingredients always stay "activated". What did I mean by this? Most products in the market, due to improper packaging, could not keep the active ingredients active. As a result, consumers are just applying oils and creams on their skin at the end of the day. And this is the reason why many do not experience skin transformation despite the fact they use expensive, branded products.  Some of them even experience skin stagnation; the skin may improve at first but comes to a halt after some time, leaving consumers frustrated and miserable. Just think, if a product is good, why are there still skin flaws whereby you'll need to use makeup to cover up? Once, a friend asked me why don't I use normal dark glass containers that fake as Miron glass since it will reduce my cost.  As a conscious brand, there is no way I will do that. I use only the authentic ones originally from Europe.  Though it may be more costly, I feel it's worth every cent when I see my customers' skin being transformed from full of problems and flaws to clean, clear, healthy and naturally glowing skin.
Q: Aside from being a Female Entrepreneur and Founder, you are also a Mother of 1 and expecting your 2nd child (congratulations!). How do you manage the multiple roles you undertake?
Lily: The business is my passion. The satisfaction of being able to help clients regain self-esteem and self-confidence motivates me. When you enjoy what you do, you look forward to every break of dawn and execute to accomplish whatever you want to. So, I never found the work tiring. In fact, I was pregnant with my first child when I launched my skincare line and set up my second store at Clarke Quay, a bare unit which I had to be involved in the interior design and oversaw the renovation. I also won the Women Entrepreneur Award 2018.  Pregnant with my second child now, I am grateful I have achieved yet another milestone ie. I am one of the winners for Spirit of Enterprise 2019.  I am thankful to God and blessed to be able to turn my passion into my business.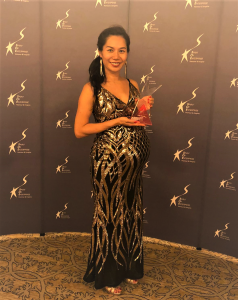 I am also thankful for a good team of staff who are self-sufficient with a robust process/system in place. With that, I can free my mind to focus on business strategy and have the flexibility of time for my child and pregnancy.
As our products and experience speak for itself, I do not have to spend much time on promotions. Most of our clients come to us through referrals and word-of-mouth as they see the transformation after using Kew Organics products and/or doing our treatments. I do however engage Smitten PR to help reach out to and educate more consumers.
Q: Many women will find having a child after 40 years old to be daunting; emotionally, physically and mentally. How do you find the strength to keep going?
Lily: Our strong faith made us decide to have another child, despite the odds.
Q: What is your typical day like?
Lily: I wake up around 6+am to clear emails before my girl wakes up (around 8+am). When she is in school, I will do some paperwork, visit my shops, do consultations, etc (it varies wherever I am needed). In the evenings, I will cast my work aside to spend time with my daughter to take baths together, play together, do writing/tracing with her, read storybook to her, go grocery-shopping, etc.
Q: What drives you?
Lily: Transforming clients' skin is the driving force that keeps me going. Knowing that I can help another client regain self-esteem and self-confidence through treating their skin problems and transforming their skin to be clear, clean and healthy; so much so they have the liberty to ditch their makeup and not to worry about make-up concerns (e.g. Is the make-up running? Are the face and neck of different color tones? Is my make-up oxidizing?) gives me immense satisfaction.
Q: In your opinion, what are the 3 character traits necessary to succeed as a mumpreneur?
Lily:
Self-discipline
Determination – I tell myself that failure is not an option
Humility – Ability to embrace staff feedback (i.e. servant leadership), give them due credit and let them know that you truly care
Q: Any advice for aspiring mumpreneurs?
Lily: It is not an easy road. Self-understanding is imperative. You need to understand yourself first. Ask yourself if you can cut it. Many people dream about being entrepreneurs, however not many are willing to take the 1st step as they are reluctant to forego a fixed salary and bear the risks. A dream/thought will just be a dream/thought unless you put action into it. Often than not, it takes time to see the fruits of your labor. For e.g. I was not drawing salary in my first year. So, you really need to bite the bullet. Also, you need to be a multi-tasker and good at managing stress and time. You need to be prepared to put in the extra hours e.g. working late nights and on weekends. There will be sacrifices that you must be prepared to make.
Q: At 48 years old, how do you maintain your makeup-free yet youthful look and slim figure? Any beauty/skincare tips for our mummy readers?
Lily:
Skincare – Use Kew Organics!
Diet/Nutrition – Eating natural, organic, wholesome foods. In my house, you will not find any condiments (e.g. oyster sauce and other sauces). Instead what we use are Olive Oil, and herbs (dry/infused). Maple syrup, honey, molasses and coconut sugar are some of the alternatives we use instead of sugar.
Cooking Method – At home, we do not fry; we bake/grill/steam. For example, if we cook fish, we will bake with turmeric, garlic, ginger and lemon (for digestion). Also, do not overcook foods as high heat kills the enzymes and vitamins.
Portion – Always eat up to 70% to 80% full only (as metabolism rate declines as we age)
Avoid processed foods as our bodies need to work extra hard to digest and detox the chemicals, preservatives, hormones and anti-biotics in processed foods. Organic foods may be more costly, but it is pointless to save on food and eventually spend on medical bills.
My daily diet consists of smoothie/juice (80% vegetables, 20% fruits), eggs in various ways, and homemade bread dipped in olive oil with garlic and herbs, or butter and homemade jam for breakfast. I usually skip lunch.  For dinner, it's salad and a protein eg. Hormone-free beef, fish, legumes etc.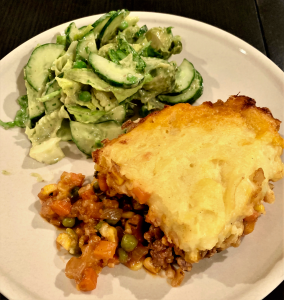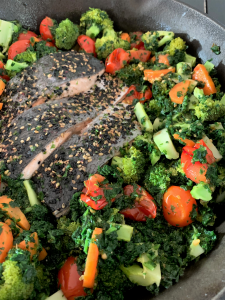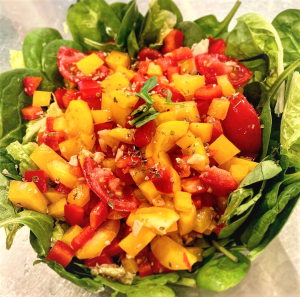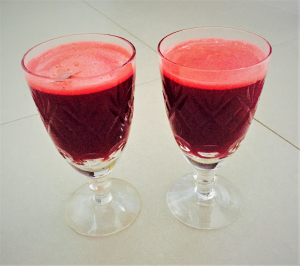 Q: Kew Organics has won an accolade of awards within a short span of period, including the "Best Organic Facial" and "Best Organic Eye Firming Treatment" Spa Awards. That is impressive! How do you plan to bring it to greater heights? Do you intend to expand the business abroad?
Lily: I intend to expand our footprints in the global market. We realize from expat clients who bought our products to bring back to their home countries during Christmas/Summer holiday, that our products are also well-received overseas. They find their skin less sensitive, more hydrating and suitable for business travels. Evolving our IT strategy and enhancing our online presence are also in the works.
Q: Will we expect to see a Kew Organics kids skincare range soon?
Lily: I may consider this in the near future.