Updated: Mar 20
November 7, 2018
Interviewed by Parent & Child
Ms Shirley Wong (aka Little Miss Bento), a Food Blogger turned Top Food Artist, have amassed a huge following online, won numerous awards, wrote 5 bestselling cookbooks, co-created menus and styled food for theme cafes, and is now the only Singaporean to be certified under the Japan Sushi Instructor Association in Tokyo. We are honored for the opportunity to have an EXCLUSIVE interview with this talented lady, during which she shares with us her craft, passion, journey, bento tips, and much more…
What/who ignited the spark in you to start your Blog?
I started my blog thanks to the encouragement from my friends and colleagues back then. They were telling me about social media (I was a noob then), and the famous bloggers, and suggested that I should take the opportunity to share my adorable lunch box creations with others online. I just thought to myself that there was no harm trying. 
What was your aspiration when young? Did you envision yourself to become to be a top bento artist, food stylist and blogger?
(Laughs) I didn't have much of an ambition when I was young; rather I kept changing my mind as I explored different interests. I am also lucky that my parents never really demanded that I go into any profession. They were also very open to exposing me to the Arts because of their background as theatre practitioners. So I was dabbling in arts, dance and performance arts since young. I think all that sort of laid the foundations to what I am doing today as a Food Artist. 
Your Bentos are irresistibly kawaii (cute)! Where do you get your inspiration and ideas from?
My inspiration comes from everyday experiences and also the popular trends or characters. Most of the foods I prepare are also items that I enjoy eating. I think only when the experiences (inspirations) are real, can my creations be relate-able and speak to my audiences.
What is it about Japan/Japanese culture that draws you to it?
I am most drawn to the kawaii culture of Japan, as well as the traditions and omotenashi culture. I think Japan is a beautiful country where you can find both ancient traditions that have been passed down generations to generations, to the modern otaku and kawaii popular culture that appeals to the young (or young at heart).
Many dream to be able to turn passion into career/business/mission. How has the journey been for you? Did you encounter any challenging moments?
If I said that I never had doubts since I turned full time, I would be lying. There are months when work is challenging and I do sometimes worry or question my decision. However, the fear of not trying outweighs the fear of failing. I see every new day as an extension and progression of what I love and remain very thankful for the opportunities. I am very happy to be able to pursue what I love. 
What do you find most fulfilling?
For me, the creation process is the most challenging but also most fulfilling; especially when I successful transform my idea into the creation. I also enjoy being able to share about my craft with my fans and followers, be it through the TV programs or on social media platforms.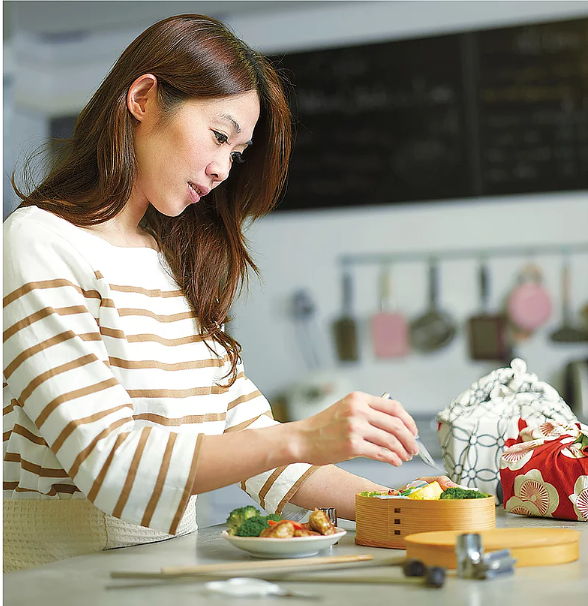 What is your typical day like?
If I am not travelling for work, then my usual work day usually starts around 8am. I work on my meal (food creations). Sometimes it requires a journey to the market for ingredients. The creation and shoot usually ends around brunch time , or just nice for lunch. My afternoon is then reserved for clients work, meetings and brainstorming sessions. And I spend most of my evenings and nights doing aerial silks training and classes. 
You have amassed a huge following online, won many awards, are featured in numerous local and international media platforms/publications, wrote 5 bestselling cookbooks, co-created menus and styled food for theme cafes, and is now the only Singaporean to be certified under the Japan Sushi Instructor Association in Tokyo… what amazing achievements! What keeps you motivated?
My motivation stems from gratitude of being blessed to enjoy what I am doing. Also, the support from my fans and followers keep me going and make me want to do better and better. 
You have come so far since the home-cooking/baking days and achieved so much. What is your advise for fellow mummies/daddies who would like to follow their passion in cooking and grow it into a viable business?
To keep it real to oneself in terms of your craft. Only this way, you will continue to persevere when times may not be as good. Also, use social media to your advantage. Everything is digital these days, so some good photographs and styling wouldn't hurt, and would help you promote your brand to new customers. 
Any tips for busy parents who would like to create cute bentos to entice their little fussy eaters to eat more and be more adventurous in trying new food? 
Always include foods that your fussy ones like. This way, they will not just see the entire box as filled with foods that they do not like. When introducing new foods, entice them with interesting presentations, such as cutting them in cute shapes, or cooking them in a manner that is more easily accepted by the young ones. 
What are the few simple bento ideas that parents can try doing together with their little ones as a start?
Sandwich bento could be an easy one, since it doesn't require much heavy cooking. And you can also rely on some store bought items to put together the box. Some fruits would also be a great addition. 
Can you tell us more about your "pet" bunny? Does it have a name? Have you designed a bento that is inspired by it? What would you think will be its favorite sweat treat?
My pet plush toy (Chou Chou) is actually the bunny character from Sentimental Circus. However, it has changed a lot since the version that I owned is no longer in production and I have also personalized it with its own accessories and clothing. I have made some food art based on this character but other than that, I actually keep this plush very private. Its favorite sweet treat has to be a sweet strawberry parfait! (Laughs)
Bento is an Art. Whilst it is well-known that you are a top Bento Artist, there is little we know about your passion for another Art, that is, the performing art of Aerial Acrobatics. Can you share more with us?
As an ex-Dancer, I think I can never quite stop moving or stop dabbling in the Arts. My food art journey is my creation process, while the aerial arts performance allows me to "dance" again, but this time elevated in the air – which is a wonderful experience. Aerial arts is for everyone. Many people might think "oh I have no strength, no core, no dance background" – but all these can be achieved as long  as you try it! And for the dancers – imagine dancing but flying in the air all at the same time, almost like a fairy!
What are the upcoming plan(s)/project(s)?
I am working on new character cafes collaborations in the new year, and will be working on new video content for an exciting platform coming along. Stay tuned for more!
Images provided by and used with permission from Ms Shirley Wong