Updated: Mar 20
Troubling over what to cook for the whole family including the little fussy eater(s)? Wondering how to "trick" the little one to eat his/her veggies whilst accommodating to your partner's dietary requirements? 
One of the simplest ways to enjoy vegetables is to puree them into a satisfying and tasty soup. Broccoli is filled with vitamins and minerals, while leeks help to create a sweeter tasting end product.
Soups like this are easy, simple to make, and a joy to eat (or drink). And for parents who are on weight-loss, this soup is definitely a good recipe to have in hand. For our readers who are on a low-carbohydrate diet, it is important not to omit the potatoes from this recipe. The potatoes help all the other vegetables amalgamate together. And it is the potatoes that help this soup keep a smooth and velvety texture.
Soup nourishes the spirit, warms the soul and soothes the heart – both food and therapy at the same time.
It is healthy, basic and definitely a good meal replacement on busy days. Although tempting, try not to make this soup too much in advance as much vitamins and minerals will be lost in the process.
Ingredients: 1 head broccoli (approx. 450 g) – cut into chunks, including stem 1 large leek – sliced 1 large potato – peeled and cut into cubes 3 cloves garlic – peeled and smashed 1.5 ltr vegetable or organic store-bought chicken stock 1 tbsp unsalted butter Celery salt (or sea salt) and pepper to taste
To serve: Whipping cream Grated cheese
Serves 5 – 6
In a large pot or casserole, add in butter, leek and garlic.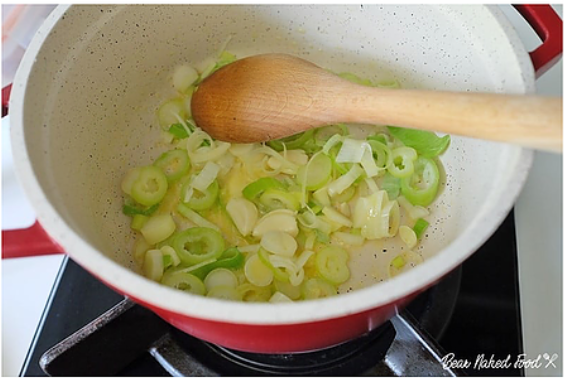 Turn on heat and sauté for 2 mins until fragrant.
Add in stock, broccoli, potato and bring to boil.
Turn down heat and simmer for 20 mins, until broccoli and potatoes are softened.
Turn off heat and allow to cool for 10 mins before blending the vegetables with a handheld blender.
Turn on heat again and season with salt and pepper.
To serve, drizzle with some whipping cream and top with grated cheddar cheese.
Photo Credit: Images from Bear Naked Food
Recipe from Bear Naked Food
About Bear Naked Food: A food blog that shows how anyone can create extraordinary meals at home.