Now if you are a fruit cake expert, you would know this recipe is not the "traditional' fruit cake recipe, where you'll have to spend several weeks feeding the cake with alcohol before it is ready to be consumed. Even though I'm sure that classical method would make the effort and waiting worthwhile, I like to make my life simpler and easier. The last thing I want is to get all stressed up over Christmas and missed out all the joy and fun.
This recipe is quite forgiving and if you follow this recipe, it is really fail-proof. You can have your cake and eat it on the very day! That being said, it takes a day for the flavor to fully develop, so I highly recommend you to eat it the next day or the day after.
For those who are making fruit cake for the first time, here are a few things you might want to know:
Mixed Dried Fruits – the ratio of the fruits is subjected to personal taste but usually raisins and sultanas are the most common dried fruits to use follow by dried prunes, currants, cranberries, cherries. I got mine at a local baking store and it came in a bag mixed with raisins, sultanas, mixed peels and glacé cherries.
Spices – again, this is also subjected to personal taste, you could add more or less accordingly. Since I have a bottle of mixed spice on hand, I used that. You could substitute with ½ tsp cinnamon and ¼ tsp ground ginger or cloves or even nutmeg.
Liqueur – adding any coffee liqueur lends a dark and intriguing flavor to the fruit cake. You could use Rum, Apricot Brandy, Tia Maria, Baileys, etc. I opted for Amarula Fruit Cream, which tastes very similar to Baileys.
For non-alcohol version, you could easily substitute with equal amount of fruit juice or simply water.
You could simply serve it in its original state or if you are feeling creative, feel free to dress it up.
Oh, personally I had trouble lining the cake tin (yes, one of my many weaknesses) so I made this short clip in case anyone faces the same problem.
Ingredients A:
500 g mixed dried fruits (mine consists of raisins, sultanas, mixed peels, glacé cherries)
125 ml liqueur – Rum, Apricot Brandy, Tia Maria, Baileys, etc (for non-alcohol version, substitute with water or juice)
2 oranges – zest and juice
150 g honey
175 g unsalted butter
175 g light / dark muscovado sugar (if unavailable, substitute with dark brown sugar)
1 tsp mixed spices (or substitute with ½ tsp cinnamon + ¼ tsp ground ginger/cloves/nutmeg)
4 tbsp (30 g) cocoa powder
Ingredients B:
3 large eggs (approx. 60 g each)
150 g plain flour
75 g ground almond
½ tsp baking powder
½ tsp baking soda
½ tsp salt
Makes an 8" cake
Recipe adapted from: Nigella Chocolate Fruit Cake (with modifications) 
In a large pot, add in everything listed in Ingredients A, stir and bring to boil. Simmer on gentle heat for 5 mins, stirring occasionally.
Turn off heat and let it cool for 20 mins, until lukewarm to touch.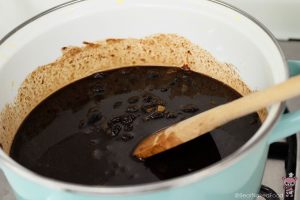 Lightly whisk the 3 eggs together and pour into the pot of fruit sauce.
Using a spatula, mix until just combined.
Add in the rest of ingredients B and fold until the flour just disappear into the batter.
Use a whisk to mix the dry ingredients thoroughly. It is not necessary to sift them.
Pour into a lightly greased 8" round tin lined with non-stick baking paper around the sides and base.
Note: The sides of the baking sheet should be double the height of the tin. This acts as an insulation to ensure even baking throughout.
Bake in a preheated oven at 300ºF/150°C for 1 to 1.5 hours. A skewer inserted should come out clean.
Remove from oven and set to cool on a wire rack.
The flavor of the fruit cake will be fully developed by the next day so it'll be the best time to consume it. Cover and store uneaten portion at room temperature for up to 5 days. The cake can be frozen for up to 3 months.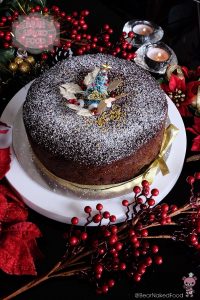 Check out this step-by-step guide video too!
About Bear Naked Food: A recipe blog by Rachelle that makes sense.