Updated: Mar 26

Stressing out thinking of what kids and/or family-friendly activities to do during this coming March Holidays? Don't worry, we've gone through the trouble of researching so you don't have to! Here is a curated list of events that we have specially put together just for you:
Disney on Ice: Mickey's Super Celebration
It's Mickey's 90th celebration: join Mickey and his friends in a highly interactive show to journey through classic Disney tales spanning generations to discover his all-time favourite memory together! The show includes The Emotions from Inside Out and Moana making their debut in Asia. Parents and children alike can travel back in time to rediscover old and new Disney stories, from following Moana embark on an adventure with Maui, the greatest demigod to ever live, to save her island; to following Anna and Elsa into the wintery world of Arendelle to discover the most powerful magic of all; to experiencing the mysterious magic of Fantasia as a Sorcerer's Apprentice and many more! A perfect family outing for Disney fans!
When? 20 – 24 March 2019 at various timings
Where? Singapore Indoor Stadium (2 Stadium Walk, Singapore 397691)
Price? S$25 – S$225
Website? https://www.disneyonice.com/sea/en-sea/ticket-info/Mickeys-Super-Celebration/765
P.S. From now 'til 10 March 2019, Maybank Card owners and Singtel Customers enjoy 15% savings on CAT 1 & CAT 2 tickets!
Gretel and Hansel
A play based on the Brothers Grimm classic fairy tale: follow Gretel and Hansel as both characters and storytellers as they learn about family love and courage together! As parents, it's understandably a headache if your kids start having sibling rivalry amongst each other. Instead of turning to parenting blogs or parent support groups for help, try bringing them to watch this play – a heartfelt, humorous and exciting tale that is sure to encourage your children to work together, appreciate their siblings and understand the importance of family love.
When? 13 Mar 2019 – 26 Apr 2019; 10am on weekdays and 11am & 2pm on weekends and Public Holidays
Where? KC Arts Centre – Home of SRT (20 Merbau Road Singapore 239035)
Price? S$26 – S$178
Website? http://www.srt.com.sg/show/gretelandhansel/
P.S. All Passion Card Members get a 10% discount and all Nursery Crimes ticket stub holders get a 15% discount!
Singapore Festival of Fun 2019
It's the return of the Singapore Festival of Fun – 10 days of fun! This 2019 edition is the largest instalment thus far with a total of 108 shows.
Get ready to watch thrilling acts and death-defying stunts by performers from all over the world never seen before in Singapore, as well as Singapore's own The Annoying Brothers during the Street Fest happening from 14 – 19 March!
The Magners International Comedy Festival is hosted by 16 international stand-up comedians over the two weekends at different bars around Clarke Quay. Get ready for a night of laughter with your family!
The last part of the Festival of Fun, the Nickelodeon Fiesta, will be taking place on the 23rd and 24th of March, featuring Nickelodeon activities with a local twist, such as the Nickelodeon Fiesta River Cruise. Not to mention, there will be photo opportunities with kids' favourite cartoon characters like SpongeBob SquarePants and the Teenage Mutant Ninja Turtles – look forward to a happy family outing!
Date: 14 Mar – 24 Mar 2019
Location: Clarke Quay Singapore (3 River Valley Road, Singapore 179024)
Cost: Free for the Street Fest and Nickelodeon Fiesta, Tickets for Magners International Comedy Festival ranges from S$25 – S$60
More info: http://festivaloffun.sg
St. Patrick's Day Street Festival
We might not be Irish, but what an excuse to pass up on an exciting event? Apart from live music performances, there'll also be a wide range of kids friendly activities like face painting and balloon sculpting, as well as bouncy castles, candy floss and kiddy rides for your little ones the entire day!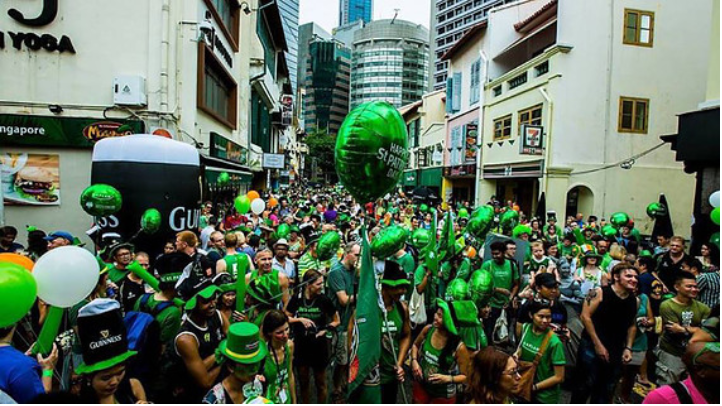 St. Patrick's Day Street Festival
Date: 15 March, 6 – 10pm; 16 – 17 March, 2 – 10pm
Location: Circular Road, Boat Quay Singapore
Cost: Free
More Info: https://www.stpatsdaystreetfest.com.sg
1-Day Drone Workshop
If your children love playing with toys, this will definitely spark their interest. This 1-day interactive workshop hosted by the Science Centre will teach your little ones all the mechanics about flying a drone, as well as get hands on experience in learning to fly one. The best part? At the end of the workshop, you'll get to bring home a drone! (Most suitable for children 10 – 14 years of age)
Date: 20 March OR 21 March; 9am – 5pm
Location: Science Centre Singapore (15 Science Centre Rd, Singapore 609081)
Cost: S$250 for non-members and S$200 for members
More info: https://www.science.edu.sg/membership/membership-promotions/1-day-drone-workshop
Kidsconnect 2019
A pop-up event designed by an artist-cum-arts-educator to focus on children's voice and play as the centre of young people's development. Over these two days, expect a large line-up of performances and activities, all hosted and facilitated by young people for young people. All families are invited to join in on a day of fun, passion and imagination!
Date: 15 & 16 March, 10:30am – 6pm
Location: Playeum, Children's Centre for Creativity (47 Malan Rd, Singapore 109444)
Cost: S$25/person, Bundle-of-4: S$80
More Info: https://www.playeum.com/kidsconnect
Prudential Marina Bay Carnival
Singapore's largest carnival returns for the second time with even more games and rides! Spend the day here strengthening family bonds over thrill-seeking rides or more family-friendly rides, or through playing various carnival games to win plushies for your little ones!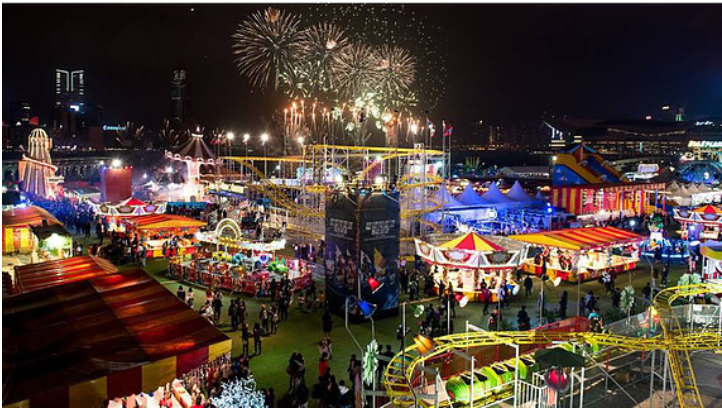 Date: Now till 24 Mar 2019, 4pm – 11pm daily
Location: Bayfront Event Space – 12A Bayfront Ave, Singapore 018970
Cost: Free admission, price for individual rides and games vary
More info: https://marinabaycarnival.sg/
Arts in Your Neighbourhood
This event is back with more than 50 arts activities taking place in 16 locations across the island for its 7th edition! Enjoy interactive arts programmes with your family by established artists and arts groups held at various spaces across the island – with a wide range of enriching art activities and performances available, you don't have to search for 'things to do in Singapore with kids' during this March holiday!

Date: 7 – 24 Mar 2019
Location: Mutliple locations (check website for more info!)
Cost: Free
More infomation: https://artsforall.sg/initiatives/arts-in-your-neighbourhood/arts-in-your-neighbourhood.aspx
SUPERHERO ME PEEKABOO! Inclusive Arts Festival
This March, Rainbow Centre special school at Margaret Drive is opening its doors to the outside world as it invites the public, children and families to interact with and experience the creativity of children with special needs. Ordinarily a school that serves children with disabilities, Rainbow Centre is transforming itself into an interactive art gallery and play space that brings together children with and without disabilities, and their families, to interact, play and get creative.
Typically-developing children and their families, as well as children with special needs and their families are invited to participate in and experience the inclusive world at Rainbow Centre by taking part in an Inclusive Arts Camp.
Date: 18 to 20 March, 10.00am to 1.30pm and 21 to 23 March, 10am to 1.30pm
Location: Rainbow Centre at Margaret Drive – 501 Margaret Drive, Singapore 149306
Cost of Inclusive Arts Camp: $120 (snacks included)
More information: www.superherome.sg/peekaboo
There will also be free art tour (90 minutes) for the public on most Saturdays (multiple timings) put together by Rainbow Centre students who discovered their talents as they worked with six local artists and 20 arts facilitators to create six original artworks exploring the themes of identity and their place in the world through the genres of drama, dance, visual art, and art and technology. Workshops on art, craft, drama, dance and Quirkbot+ programming will run through most Saturdays in March as well.
Sentosa FunFest with Sanrio Characters
This March holidays, Sentosa FunFest is back with larger-than-life inflatables and popular Sanrio characters – Hello Kitty, My Melody and Gudetama! Go gaga over the kawaii-ness of the lovable Sanrio characters and enjoy loads of inflatables fun along Palawan Beach. The best part is that admission is free! After all the fun at Sentosa FunFest, head over to Palawan Green in the evenings and catch a free movie under the twinkling stars!
Date: 16 – 24 Mar 2019 (10am – 7pm)
Location: Palawan Green
Cost: Free
More information: https://www.sentosa.com.sg/funfest
Tokidoki at Changi Airport
Jump into the colourful world of tokidoki at Changi Airport this March school holidays! Fans of the brand can immerse themselves in the criminally cute world of tokidoki through various installations and activities. A larger-than-life inflatable tokidoki playground, a walkthrough tokidoki-themed showroom, limited edition Changi Airport-exclusive tokidoki collectibles, and first-in-Singapore meet-and-greet sessions with two iconic tokidoki characters, SANDy and Donutella!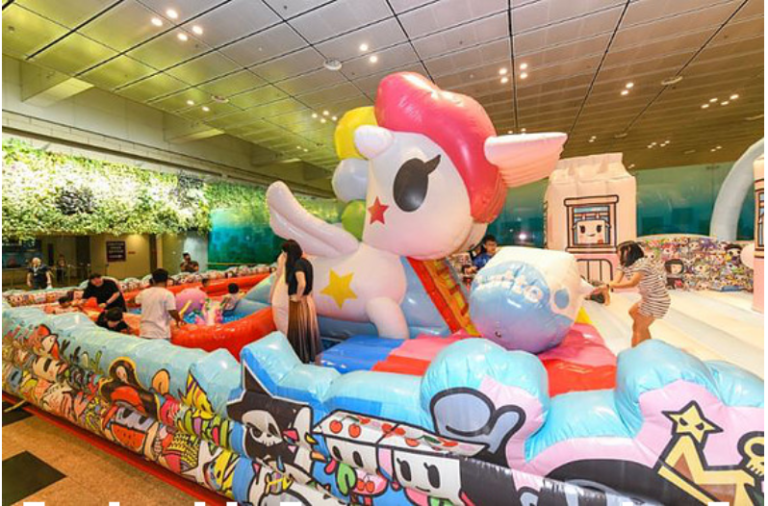 Date: 15 March – 1 May
Location: Terminal 3 (T3) Changi Airport
More information: http://www.changiairport.com/en/discover/events-at-changi/tokidoki.html