Bring your spouse out for some much-needed couple bonding time and relive those fun (and more carefree) dating days of café-hopping/exploration. The Green Ducklings is definitely a place you have to check out with your other half!


Started by two ladies in their early 20's, The Green Ducklings has been getting a lot of buzz lately. The Green Ducklings stands out amongst all the other cafes in that area because of its cozy ambience and eye-catching neon lights.
On first look, their menu consists of regular sandwiches, pasta and brunch items, what makes them different is how unconventional their food pairing are. Think Unagi Sandwich, Century Egg Pasta, Carrot Cake with Nacho Cheese and the Smoked Salmon Cake. These food are definitely not what I had expected from the normal cafes!
The Big Breakfast
Source: The Green Duckling Instagram
If you want to play it safe, a big breakfast is something that can never go wrong! What sets them apart from other cafes is the fact that they made most of the ingredients from scratch, from baked beans to the wholemeal bread! This platter comes with 2 sunny side ups, sausages, crispy bacon, a side of baked beans and wholemeal bread that will satisfy your English breakfast craving.
The Fried Carrot Cake With Nacho Cheese

Source: The Green Ducklings Facebook
As someone that enjoys our local hawker fare, the fried carrot cake with Nacho Cheese is something right up my alley. If you love your regular hawker style carrot cake, you will love this! Who would have known that carrot cake will go well with nacho cheese?
The Century Egg Pasta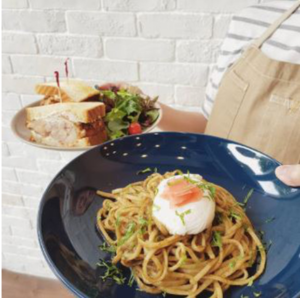 Source: The Green Ducklings Facebook
You have heard the buzz about chilli crab pasta and salted egg pasta. Have you heard about century egg pasta? Shout out to the flavor explorers! If you enjoy the pungent and creamy flavors of century egg, this dish hits all the right spots!
Smoke Salmon Spinach Chiffon and Lemon Dill Cake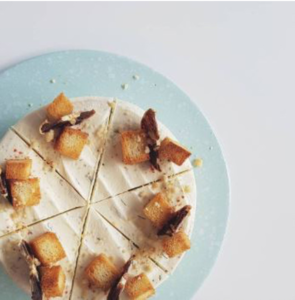 Source: Facebook
One of the dishes I am most excited to try is the Smoke Salmon Spinach Chiffon and Lemon Dill Cake. If there is one thing you must try from The Green Ducklings, this is it. This cake is the perfect match of sweet and savory with a slight hint of tang from the cream cheese frosting. No wonder it is the most popular cake at the store!
The Green Ducklings
Concourse Skyline
302 Beach Road #01-06
Singapore 199600